Posted by
Donna Lafferty
on Jan 4, 2017 in
Uncategorized
|
Comments Off

on 2016: A Year in Review
Looking back on some of the highlights of 2016, it's clear that the Bloomington Symphony Orchestra continues to thrive and grow. Here's a month-by-month recap of some of our major milestones.
---
In January, violinist Maria Sanderson wowed our judges with her performance of  Dvorak 's Violin Concerto in A minor to win the 2016

Youth Concerto Competition

. In addition to a cash prize, this award entitled Maria to perform her piece as a soloist with the BSO during the final concert of our 46th season, Judgment Day.
We are very grateful to Hilliard Lyons for their ongoing support of our Youth Concerto competition.

---
February brought a first of its kind collaboration between the BSO and the Bloomington Writers Guild for Poetic License on the 13th. We're very grateful to

Solution Tree

for sponsoring this concert!
Sadly, February also brought news of

Liz Ferenczy

's passing. Liz was a beloved member of the BSO's 2nd violin section for many years. Her memory lives on thanks to her gift of instruments to our

Children's Instrument Recovery Program (ChIRP)

.
---

March came in like a lion with Side-By-Side-By Symphony on the 6th, sponsored by the

May Agency

. This year, we tried a new model for this concert, where each student musician was paired with a BSO mentor. Both the students and adults found this approach incredibly rewarding, so we'll be building on this in coming seasons. Thanks to our school partners for their hard work and collaboration!

---
If you weren't in the audience on April 24th, you missed a REEDiculous-ly amazing performance by our principal clarinet and bassoon players, Carl Weinberg and Catherine Marchese, accompanied by pianist Soojin Joo.
The concert was presented as a tribute to the legendary David Baker, and special guests Evan Main, Chris Parker, and Philip Wailes helped make this a swinging, soul-filled good time!
---
On May 14th, Judgment Day marked not only the final concert of our 46th Season, but also the last BSO performance conducted by Adam Bodony. 
With an
impassioned performance of Sh
ostakovich's 5th Symphony, Maria Sanderson's solo debut with the orchestra, and Russian-themed cocktails ("Shots-takoviches" and "Lenin Drop Martinis")  provided by our sponsor Cardinal Spirits, it
was definitely a night to remember!

---
June brought the BSO's Annual Meeting as well as another performance on the riverfront in Rising Sun, Indiana as guests of the

Rising Sun Blue Jean Festival

and the Ohio County Community Foundation.

Guest conductor

Dan Whisler

lead the BSO in a concert featuring movie themes, popular tunes, marches and more to a very appreciative crowd.

---

Third time's the charm! Our

Summer Concert

with the Bloomington Parks and Recreation Department was rained out on both July 3rd and 4th, but finally, at the end of the month, we got to play for a sizeable audience in Third Street Park. Guest Conductor

Dan Whisler

charmed both the audience and the musicians with some truly corny jokes, and left the crowd begging for more, more, more!
---
On Wednesday, August 3rd, the Bloomington Symphony Orchestra was chosen as the recipient of

100+ Women Who Care

's quarterly donation.
This was an amazing gift to the Orchestra, and will continue to enrich our educational outreach programs and children's concerts for years to come. Thank you again,

100+ Women Who Care

!

---
Artistic Director and Conductor

Alejandro Gómez Guillén

began rehearsing with BSO in September.
If you haven't yet seen it, please take a moment view the video on our home page, where Alejandro discusses his vision for the orchestra's future. It's quite inspiring!
---
On October 1st,

Happily Ever After?

welcomed amazing soloists from IU's Jacobs School of Music as well as the delightful story of Rufus and Rita as told by

Reimagining Opera for Kids

(ROK).
 Musicians from the BSO presented a special chamber concert honoring the life of

Richard Vanderbilt

on October 16th. His wife Ivonne had requested some of his favorite pieces, which we were delighted to perform for a large, appreciative audience.

---
November was another busy month, with both our annual Poinsettia Sale Fundraiser as well as our

Holly Days

programs at the Buskirk-Chumley Theater. Soprano

Amy Cope

lent her powerful voice to several numbers, and was a crowd favorite.

Thanks to the gracious support of

Curry Auto Center

, we performed two shows filled with family-friendly holiday fare to nearly sold out houses!

---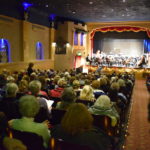 The

Historic Tivoli Theater

in Spencer brought the BSO back for an encore performance of Holly Days in early December to a sold out, very engaged audience. I don't know when I've heard such great carol singing! Thanks, Tivoli! We love you, and we'll see you next year!
Ending on a sad note, we lost longtime supporter and former Board President

Hilliard Trubitt

at the end of December. We will miss you, Hill! Thank you for all your love and support.
---
What will 2017 (and beyond) bring? New challenges, new partnerships, new music, but always the same sense of hard work, joy, and community that the Bloomington Symphony Orchestra has always had since it was founded in 1969. There's so much to look forward to! Thank you for being a part of it all.