Posted by
Donna Lafferty
on Jan 23, 2017 in
Uncategorized
|
Comments Off

on Our Next Concert: Scene Change
Saturday, March 4 at 7:30 PM
at the Buskirk-Chumley Theater
BUY TICKETS NOW

On March 4th, the Bloomington Symphony Orchestra explores the uncharted musical language of Latin America in collaboration with Indiana University's Latin American Music Center. This program features the WORLD PREMIERE of Ash Wednesday by Juan Orrego-Salas.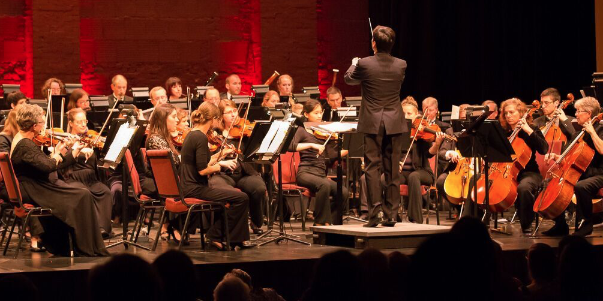 On the program –
O Garatuja – 1904 Alberto Nepomuceno (Brazil)
Prelude to an opera that was never finished, O Garatuja ("The Scribble") tells the story of a young would-be political activist. Richard Strauss was a vocal supporter of Nepomuceno and his music, conducting a performance of this piece just before the composer's death in 1920. Listen to it now!
Bajo su Ventana – 1930 Guillermo Uribe Holguín (Colombia)
The joyous torbellino Colombian dance rhythm is very much in evidence for this short, sweet serenade "under her window."
Ash Wednesday – 1984 Juan Orrego-Salas (Chile)
Dedicated to the composer's family, this piece was inspired by T.S. Eliot's poem. A world renowned composer and co-founder of IU's Latin American Music Center, Orrego-Salas is noted for his distinctive non-traditional musical style. Our performance of this poignant piece will be a world premiere.
Bachianas – 1941 Adolfo Mejía (Colombia)
An homage to both J.S. Bach and Heitor Villalobos, this short piece centers around a fugue and features the string section.
Introducción y Allegro Concertante – 1999 Juan Orrego-Salas (Chile)
Featuring four-handed piano, and extensive solo passages for strings, winds and percussion, this piece showcases virtuosic playing across a small chamber orchestra.
Retablos Sinfónicos – 1980 Celso Garrido-Lecca (Peru)
Based on Peruvian folk dances, Retablos Sinfónicos is an energetic, upbeat piece featuring plenty of exotic percussion and full orchestration. Listen to a recording here.