Posted by
Donna Lafferty
on Feb 19, 2017 in
Uncategorized
|
Comments Off

on Leave Your Sombrero at Home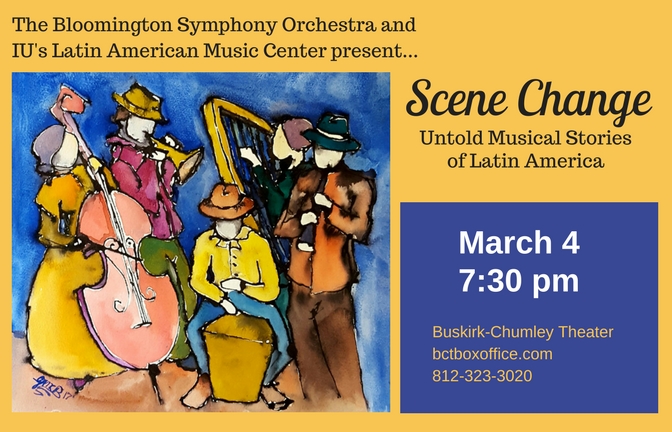 LEAVE YOUR SOMBRERO AT HOME
Defying Stereotypes in Latin American Music
"They're great, but mariachis and salsa are only a tiny part of what Latin American music is all about."
Alejandro Gómez Guillén, Artistic Director and Conductor of the Bloomington Symphony Orchestra, wants the world to know that there's more to Latin American music than just mariachis and salsa.
On Saturday, March 4th, the BSO is partnering with IU's Latin American Music Center to perform music by composers from Brazil, Chile, Colombia, and Peru. And here's the catch – absolutely nothing on the program is what you'd think of as "typical" Latin American music.
This is particularly important to Alejandro, who grew up in Bogotá, Colombia, surrounded by song.
"My grandfather put together a family choir – Coro de Cámara Guillén Becerra – and conducted it. I grew up listening to them rehearse. Even after being sent to bed, I'd sneak back to the door and listen to the beautiful songs coming from our living room."
Last November, Alejandro attended a performance by IU's Latin American Music Center. Chilean composer Juan Orrego-Salas was also in the audience, and Alejandro called his mother to tell her.
"One of our favorite pieces, Romance Segundo, was written by Juan Orrego-Salas. You have no idea how much his music means to my family, and how it shaped my own life and career. And here I was, in the same room as this great man and brilliant composer, so of course I told my mother, and she just started crying on the phone."
Two of the pieces on the March 4th program – Introduccion y Allegro and Ash Wednesday – were composed by Orrego-Salas. Ash Wednesday, inspired by a T.S. Eliot poem and dedicated to the composer's son, is of special interest, as this will be that piece's world premiere.
And really, how often do you get to conduct the world premiere of a piece written by your hero, who also happens to be one of the greatest living composers? Maybe once in a lifetime, if you're lucky.