Posted by
Donna Lafferty
on Sep 27, 2017 in
Uncategorized
|
Comments Off

on Sung-Mi Im – It's All About Connecting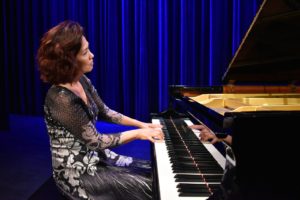 We recently interviewed IU Jacobs School of Music Professor Sung-Mi Im about her career in music and her upcoming performance with the Bloomington Symphony Orchestra.

Q: When did you start playing the piano, and what made you choose it?
A: I started playing at 3 years old. It was really my mother's choice, she was my first piano teacher. She still is a piano teacher, in Korea. I don't know how many 3 year olds are really motivated enough to say "Yes, I want to play the piano," but my mother told me that I really seemed to enjoy playing it, and sometimes I would just dance to the tunes while I was playing. My mother was my teacher for many, many years.
Q: So now you're a professor at Indiana University, and you teach piano, too.
A: I teach chamber music, yes, at the Jacobs School.
Q: How is that different than just teaching piano?
A: I not only teach the piano students, but I also teach the specific chamber music repertoire, so different combinations, not just pianists – so from duo, to quartet, quintet, all these things that are chamber music.
Q: So chamber music would have its own distinct repertoire and approach, unlike that of the traditional piano solo repertoire?
A: Oh yes, a very different approach. Much more collaborative.
Q: How long have you been in Bloomington and at IU?
A: I've been teaching here about five or six years. I moved here from New York in 1999 with my late husband, Ik-Hwan Bae who was on the violin faculty at IU, and our son, Subin. For many years, I was just happy being a mom, though of course I would still perform, too.
Q: How do you like Bloomington, and IU?
A: I love this town, and this is absolutely my home. Bloomington is a really great city, I have wonderful colleagues, and it's a wonderful place to raise a child. My son was born in New York, but Bloomington is really the only home he's ever known.
Q: Have you performed Rhapsody in Blue before?
A: No, this is the very first time for me. I'm very excited about playing this – it's not a standard piano concerto by any means. It's just such a great piece, and of course the audience will know it well and love it. I'm just so grateful for the opportunity to do this.
Q: Is there anything that's particularly challenging about the Gershwin?
A: It's got such a free spirit – it's written in such a free form. This is something very new that I'm experiencing, working it out with the orchestra. There are these long passages where it's just me, then I go back together with the orchestra – shifting between the two is very exciting. I wouldn't say challenging, but very exciting, yes.
Q: One of the things Alejandro told me about you, specifically, is how collaborative your approach is. We're all very excited about how your chamber music background is going to influence this performance.
A: Well yes, that's really what I do. Collaboration in chamber music is what you have to passionately set out to do. It will be exciting to see how I can connect with the audience and the orchestra. This piece is a wonderful vehicle for that. It's so popular, so well known, performing it gives a sense of community that's different than other classical concerts.
I think we will have some audience members who go to the concerts at the music school, but also some people who I've never met or played for. I look forward to meeting them, and getting a chance to really connect with them. To me it's all about connecting and sharing. Everything that I do, coaching, teaching, and performing, that is always what's in the back of my head, and in my heart. It's all about connecting.